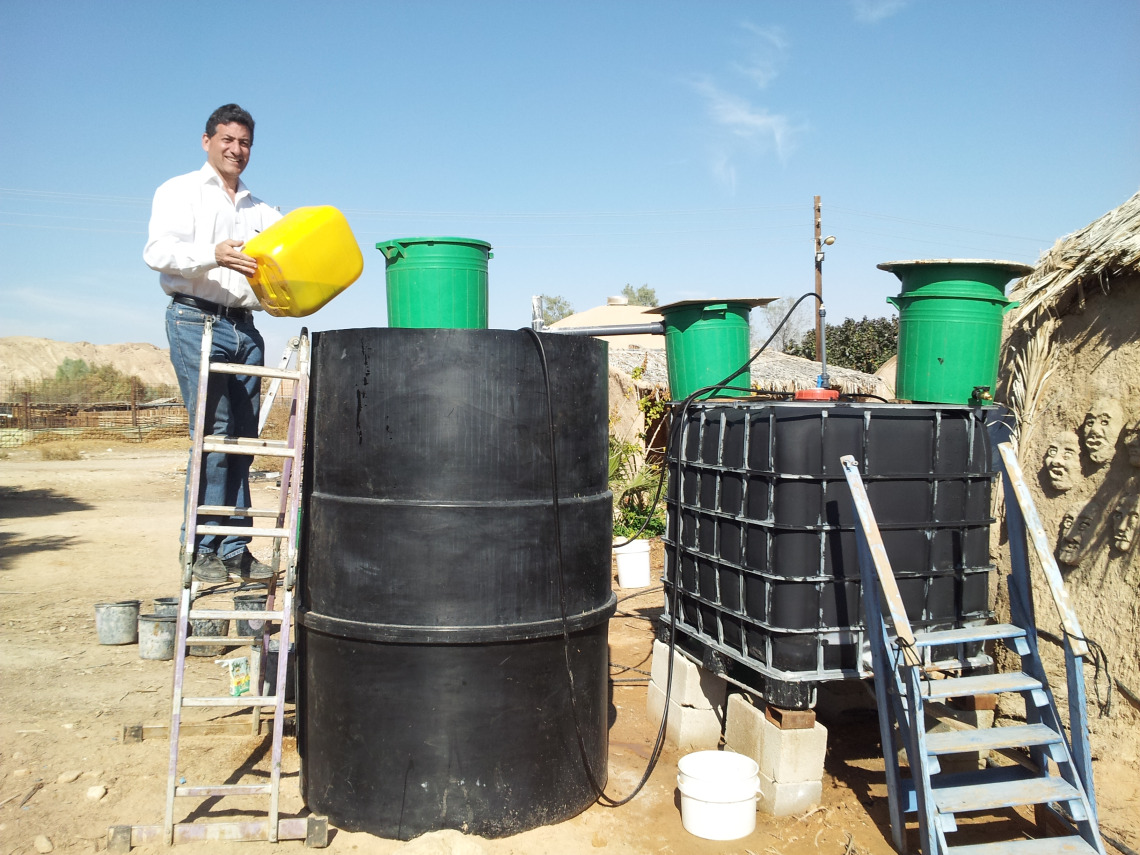 We  built this Solar CITIES IBC/ARTI Hybrid Biodigester system on January 15th at Kibbutz Lotan after Culhane field tested the new design early in the fall at Mercy College. The new idea was to use buckets for the feed in and slurry out, simulating a Puxin or fixed dome digester using water displacement to allow for some gas build up in the IBC and creating water pressure to force the gas out. It also gives an ability to easily pour food waste in, acting as a "mega funnel".
The digester was built in a workshop led by Culhane Cicelsky and Kaplin with the Kibbutz Lotan Green Apprenticeship Students and with students from Envisaj Mercy, the Mercy College Environmental Sustainability and Justice League from New York, including Green Apprenticeship alum and Solar CITIES Rio partner Leo Adler.
Because of an unusually cold winter in Israel (including snow in Jerusalem) it took nearly two months for the system to begin producing gas.
Alex Cicelsky posted on facebook on April 10 on Green Apprenticeship - Kibbutz Lotan:
educational and functional methane biogas digestor. From right to left: an ARTI (Indian) style digestor which stores the gas and keeps it under pressure > the Puxan (China) style insulated intake digestor which sends the gas to the ARTI > the gas tanks that we won't need to buy anymore! — ‎with Thomas Henry Culhane and Mike Kaplin at ‎Kibbutz Lotan - קיבוץ לוטן‎.‎
Green Apprenticeship - Kibbutz Lotan educational and functional methane biogas digestor. From right to left: the Puxan (China) style insulated intake digestor which sends the gas to the ARTI > an ARTI (Indian) style digestor which stores the gas and keeps it under pressure. The "Tower of Pisa" is an upside-down water tank full of methane. The green bucket up high is full of rocks which pressurizes the gas. We'll feed it with a daily food scrap shake and get hours of fuel. — ‎with Thomas Henry Culhane and Mike Kaplin at ‎Kibbutz Lotan - קיבוץ לוטן‎.‎
Photos:  Alex Cicelsky
29.987594 35.084256